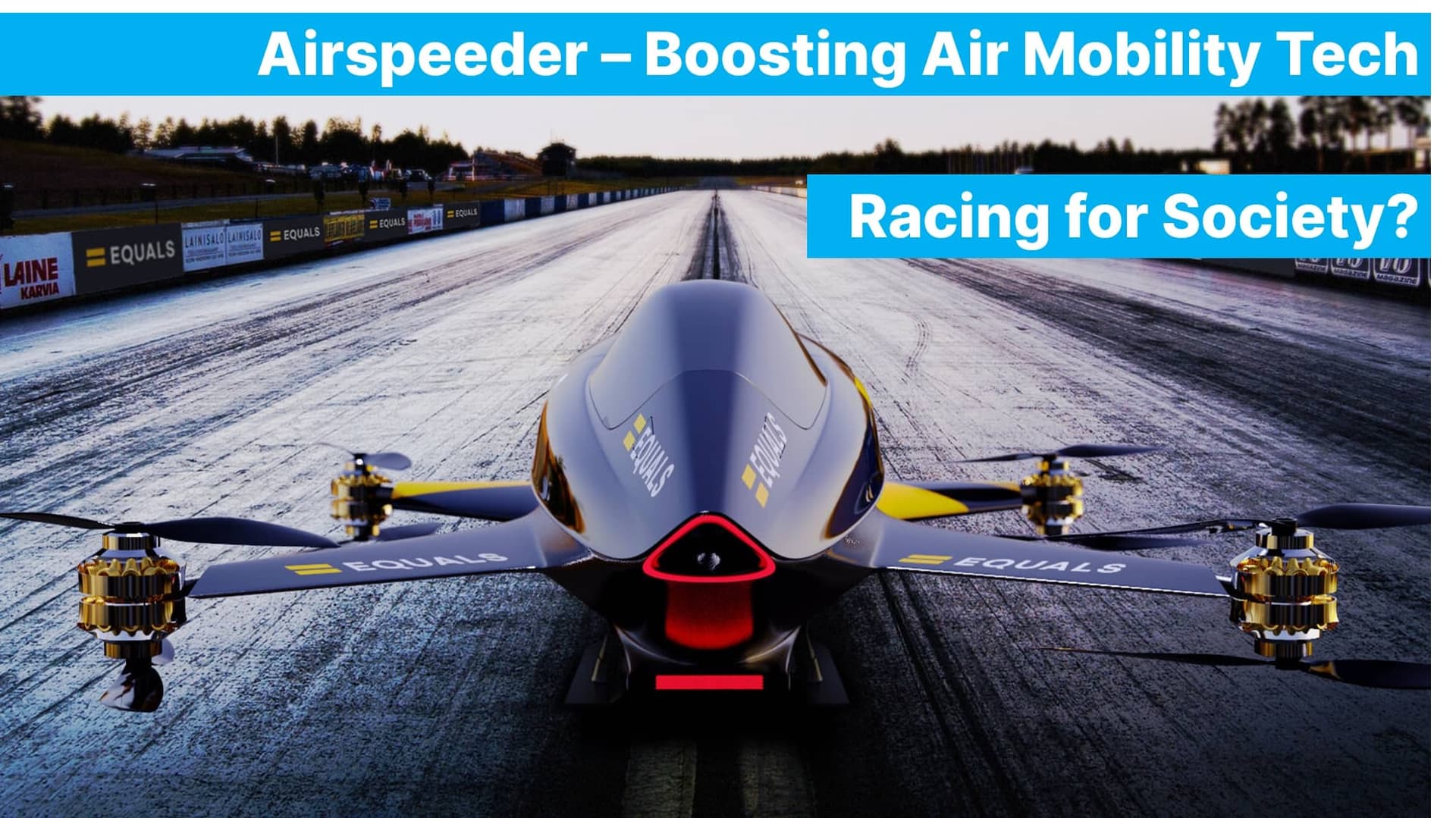 Nicolas Berberoff Naval
24/11/2020
Introduction 📢
For this blog post, Nicolas Berberoff interviewed James Warren, head of communnication at Airspeeder. Airspeeder is an upcoming racing series with a bespoke Octocopter set to reach speeds of up to 200 km/h!
Racing to solve congestion?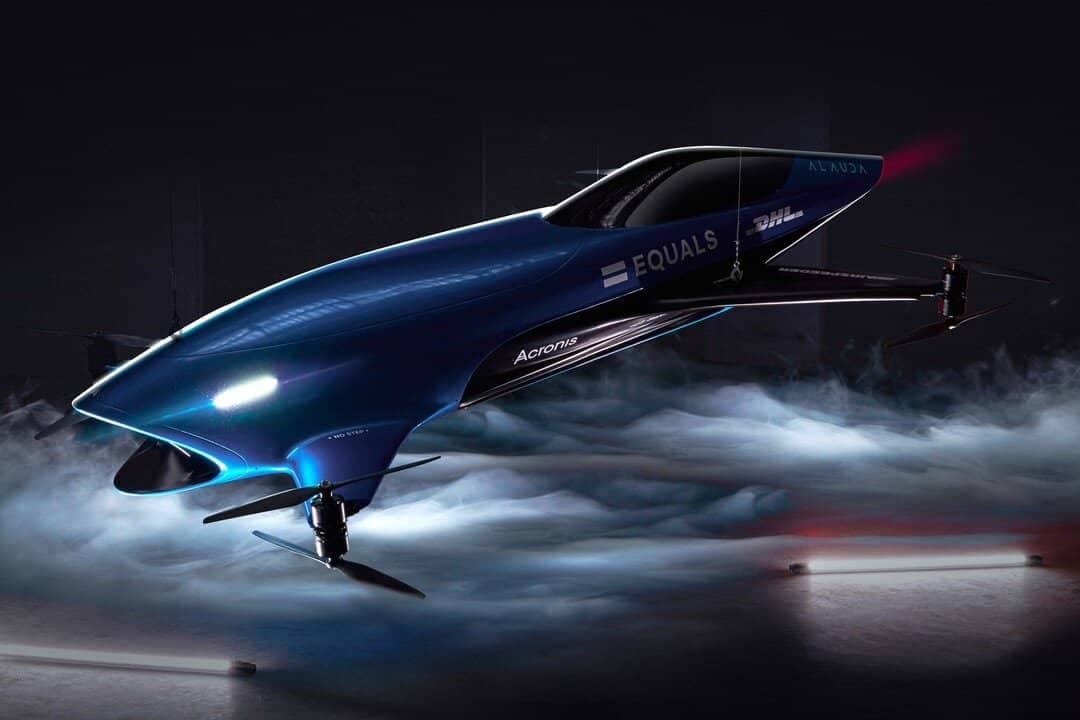 Talk us through the actual nature of this competition, the origins of the company. Why translate motorsports to the aerospace sector? One must start by apprising the scale and potential of electric takeoff and landing (eVTOL) vehicles, the next great mobility revolution. In its commercialised form it promises to liberate our cities from congestion, massively cut journey time in urban areas and revolutionise aerial logistics. This industry is estimate to be worth more than 1.2 trillion dollars by 2040, backed by the likes of Uber, Daimler, Toyota, Porsche and many other manufacturers. What we have envisioned is that despite the shift to autonomous transport, there will always be a desire amongst people to drive or pilot vehicles. Our founder Matt Pearson, after finding success in a technology start-up in south Australia, found himself in a position where he had time and resources on his hands and was frustrated he couldn't buy a flying electric car, something we have been promised for years in science fiction. He decided to investigate the automotive history and aviation to see what elements accelerate the development of such technologies, assessing how mobility revolutions have come across and societal acceptance has been built up. Competition is within human nature; thus, racing will always remain relevant. Historically competition has propelled the acceptance and incorporation of such technologies into our lives, so we at Airspeeder are playing that same role with the revolution of flying cars.
Establishing a bond with society is important, technology must be relevant. How does Airspeeder intend to impact society?
We impact society in the sense that we are working towards a technology that will liberate congestion, by utilising a clean-air technology, let's not forget the environmental impact too. We are proud of the role we are already playing in hastening that technology; bringing to maturity quicker, answering safety questions quicker, being more robust in testing or even addressing noise pollution quicker than the design process of a passenger craft will. Hence the technological advances that we are making, are going to make the development of passenger taxies possible, underpinning the technology that will eventually be there. Racing but with purpose, much in the line of what Formula 1 has brought us; ABS, energy recovery systems etc.
A Blank Sheet of Paper
Will this be considered motorsports? How are other racing institutions reacting to this?
We are widely regarded, certainly in racing communities, as the Formula 1 of the skies. There are several implications to this. Number one, when you are defining a new sport, new technology and craft to go with it, you start with a completely blank sheet of paper. We are not having to fight against the traditions or legacies that other sports might face. Thus, we can design the sport from a conceptual stage, defining its essence, deciding the way that we enable teams to approach racing. For example, we as Alauda Aeronautics Pty Ltd. will supply the craft to different teams so that the technological plane field will be completely even. Hence allowing teams to have separate strategies and recruit their own pilots, resulting in an 'ideal' equitable competition that we, all motorsports fans, want to see. Without doubt, it will certainly be something people will globally respond to. In terms of how we interact with our fans, we are yet exploring; not bound to existing broadcast agreements or restricted in any other way, we have complete freedom. The way we are approaching the spectator interaction is as a very two-way competition; fans will be able to live-stream the races, interact with the pilots and engage with the sport itself.
Currently there are openings for pilots. What backgrounds or requirements should those pilots have?
Again, starting form this blank sheet of paper, we made an open call to elite pilots. Back in June, Matt Pearson spoke in an event hosted by an organisation called Mobility Prime; basically, the US AirForces' accelerator eVTOL technology. People have come to us from a range of backgrounds; test pilots from civil and military backgrounds, very strong acrobatic and competition pilots. To our minds, we don't want to limit it, we are making an encouraging call to strong UAV or even drone pilots. Same thing goes with people from esports.
With there be different locations across the season? Number one focus at the moment is in 2021. We have already spoken about Coober Pedy desert in South Australia, or the Mojave Desert. During this first season (season alfa), there will likely be one-on-one time trial races or duels. In the future it will be opened up for a much larger grid. Note that our MK4 craft, reaches 130kph, flying around an electronically governed circuit around the locations in time trial. Eventually everything will build up to more traditional close-racing events. Technology is ready; by combining lidar sensors and virtual force fields we will liberate our pilots to race each other hard.
High Tech Racing Nostalgia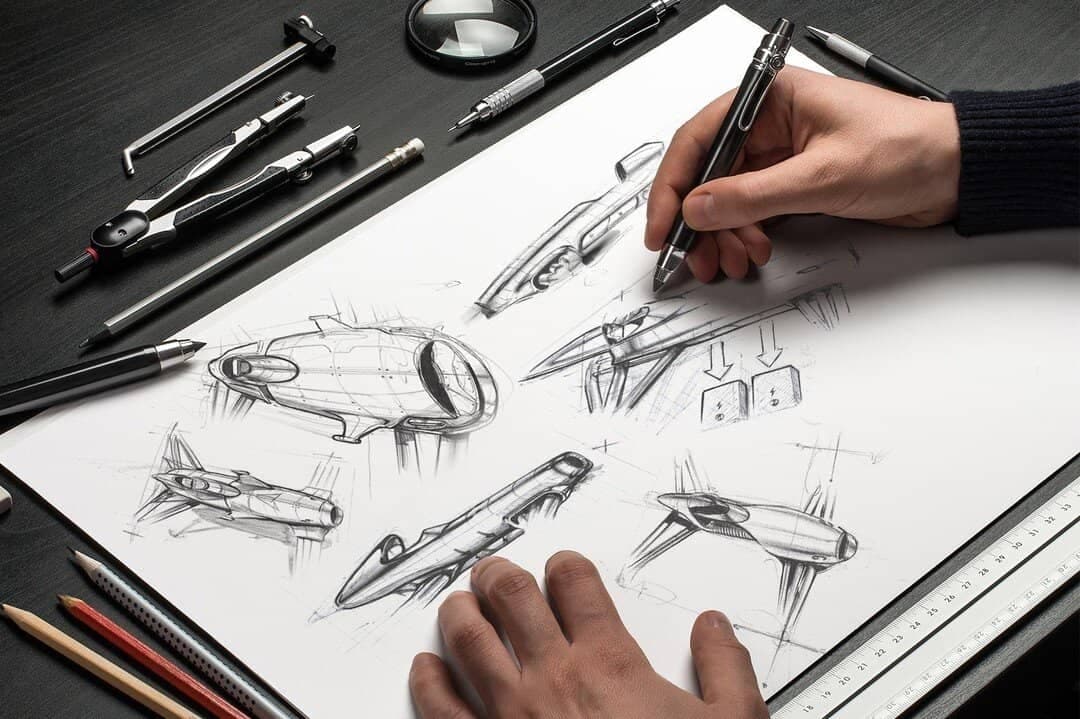 Design seems to be inspired by Formula One cars from the fifties with the air intake at the front, I suppose this also satisfies cooling requirements for batteries and systems? How much performance are you getting from batteries, range-wise, maximum thrust and so on?
Our Head of Design, Felix Pierron really worked to create a profile that instantly evokes the sense of a racing craft. This is so important to building enthusiasm and acceptance for Vertical craft like ours. In many ways, design of a flying racing car is dictating by the need for performance in the same way the F1 cars of the fifties and beyond were. Air intakes are therefore not superfluous they are there to cool the high performance electric powertrain. While our contemporaries in the eVTOL passenger sector are focused primarily on range, efficiency and the ability to carry large loads we can be very focussed in developing the vehicle for pure performance and manoeuvrability. We will race at speeds of up to in 20 minute bursts with rapid pitstops that will really add to the drama and tension on race-days. We aim to race at speeds up to 200km/h.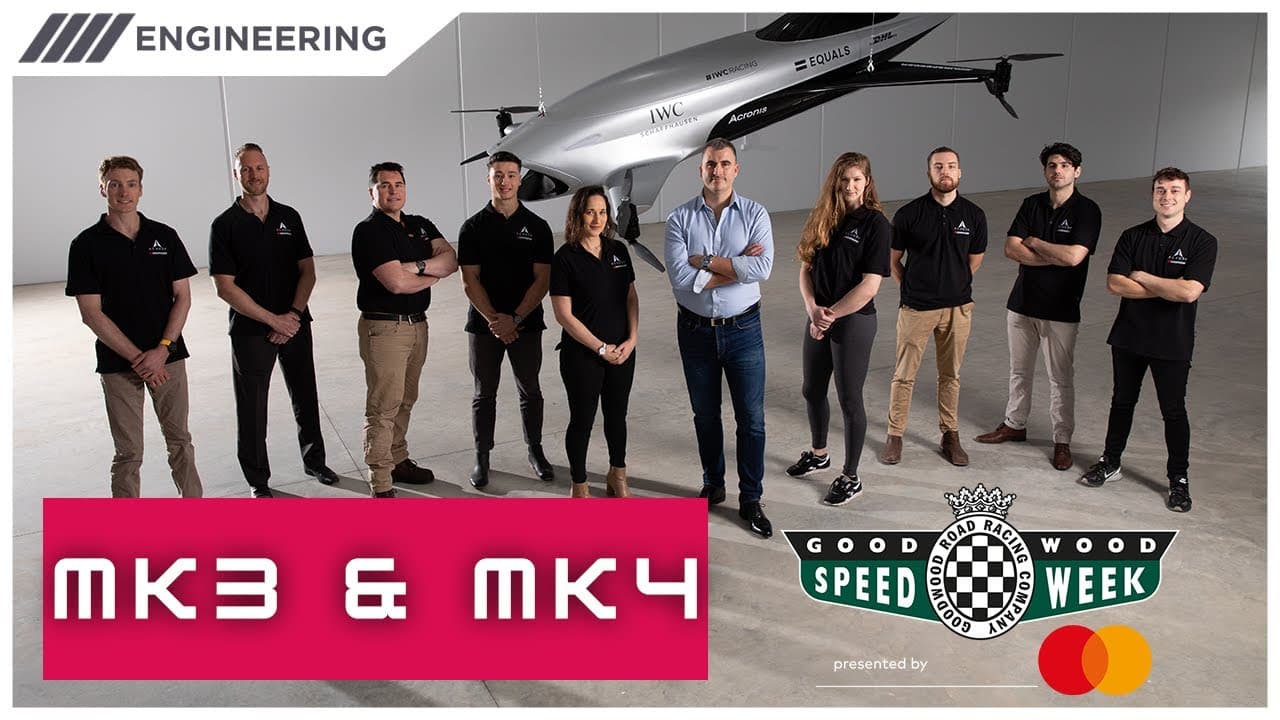 How eVTOL Flying Cars Are Made | Airspeeder Factory Tour at Goodwood SpeedWeek
Blending Design, Safety and Aerodynamics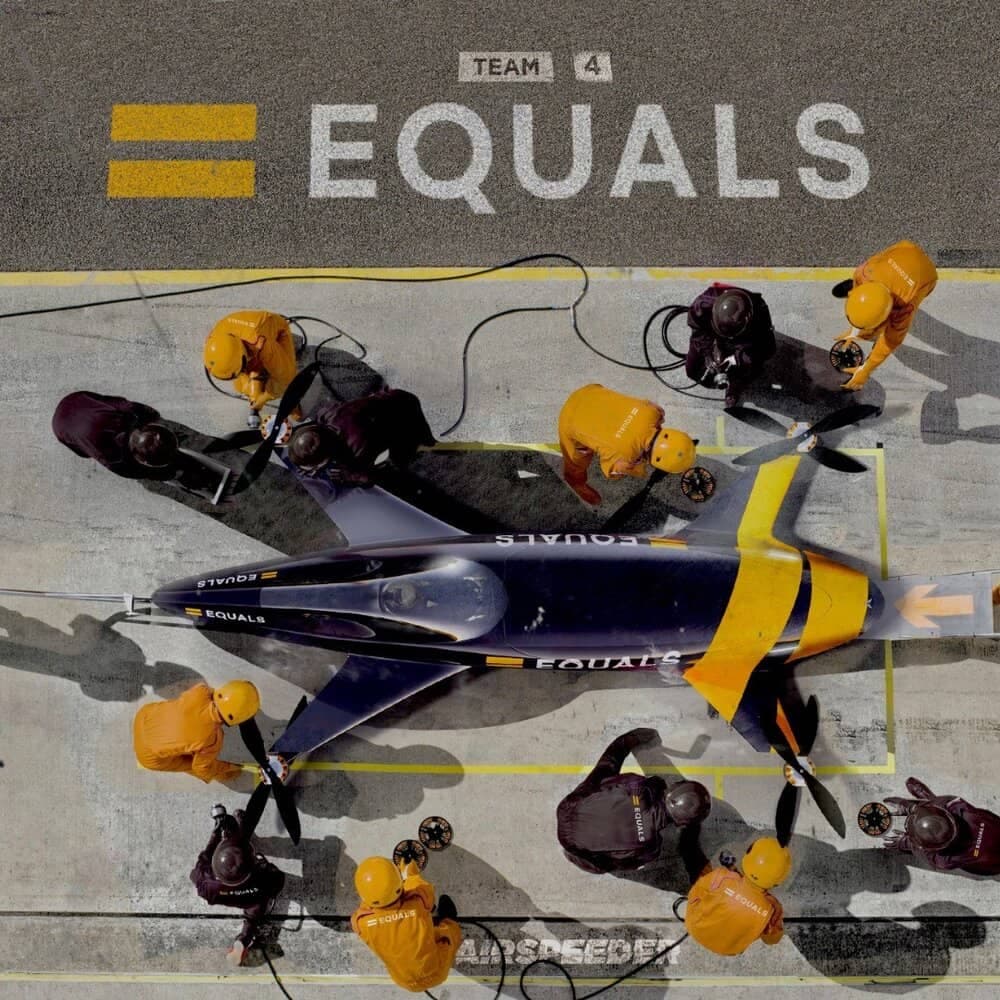 How did you work on aerodynamics in general: lots of simulations? Did you involve industry experts? Did you / do you plan on doing wind tunnel tests?
We've gathered a team of engineers and designers drawn from both the aviation and performance automotive worlds. With that, we are able to blend knowledge and processes from multiple disciplines including computer modelling and simulation. They will work with wind tunnel testing to hone aerodynamics that are then validated through extensive flight testing.
Why this layout (4 double props on each corner)? Very good for manoeuvrability, less energy-efficient? The real benefit of the a performance eVTOL craft in this configuration is the rapid manoeuvrability that physics dictates is not possible with more traditionally specified aircraft. In essence, our pilots will have the same rapid hairpin turning ability at their disposal as an F1 driver but with the addition of a third dimension because we're in the air. We refer to our layout as an octocopter 'H configuration' - this adds an important layer of safety as it adds redundancy. In event of a motor failure the craft will not become unstable as per a traditional quadcopter setup.
The "rotor arms" have been given an aerodynamic profile, is that correct? How do they contribute to the performance of the aircraft? Like any craft participating in an elite sport, every surface or function must be honed to do perform optimally. Our philosophy here is that form must absolute service function, therefore the shape of the rotor arms does much to make the craft move through the air efficiently which provides enormous benefits in terms of overall performance and manoeuvrability. To go into more detail, they have an airfoil profile to improve performance by generating lift and reducing drag.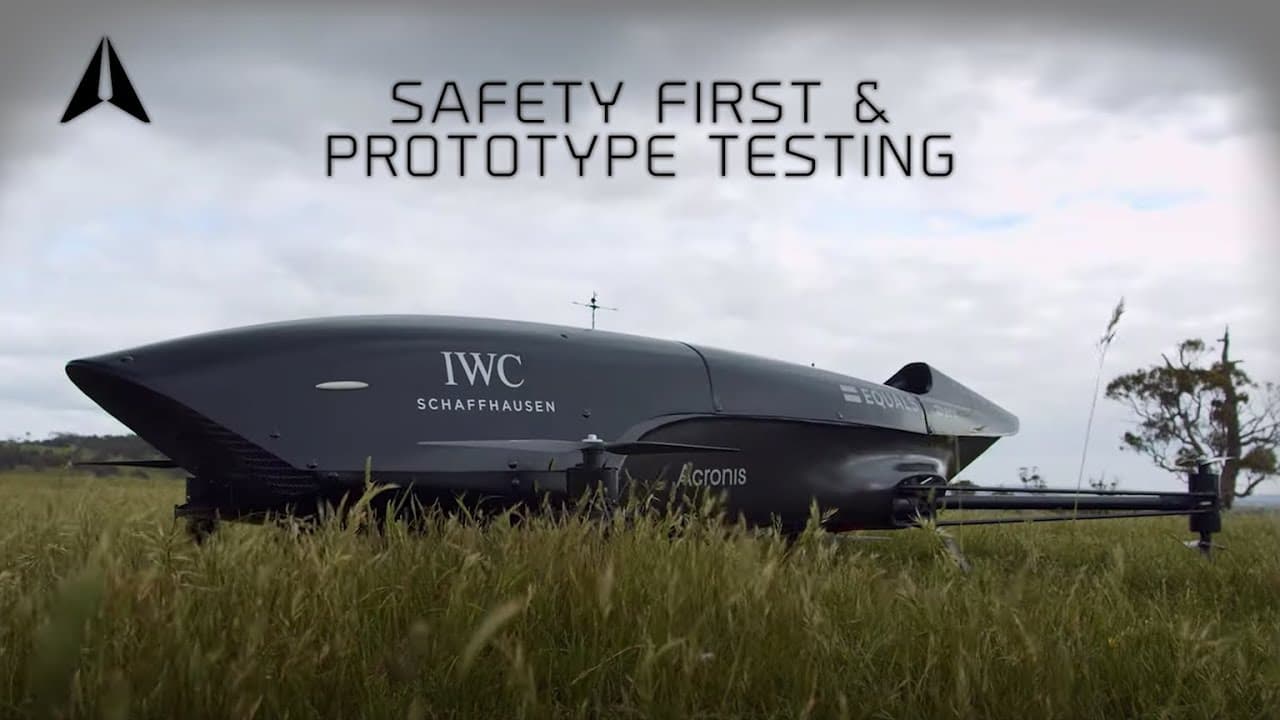 Powering Up Our eVTOL Flying Car | Airspeeder
Conclusions
The Airspeeder series promises to pave the way for new urban air mobility technology as well as to entertain the masses. Will the virtual force field hold under the pressure of racing? Will the pitstops cause drama during the races? And most importantly, does air mobility really hold the key to sustainable transportation, truly reducing CO2/km without shifting the congestion problem to the skies? Let's find out when the Airspeeder series kicks off in 2021!
Interesting links:
Airspeeder
Air Race E
Formula Air Grand Prix